You'll Find Out Where To Get The Traffic. Exactly How to Get It. The Secret of Getting Subscribers For Pennies Each. And The Simple Gimmick That Makes it Happen. And the Best Part Is, It Doesn't Use Google, SEO, AdWords, Videos, Article Marketing, Or Anything Else You've Likely Heard Of.
Hello,
Marlon here.
A few months back I ran across a really simple, HIGHLY targeted traffic method by Mike Hill. I loved his method and bought the rights to it because I knew I wanted the folks on my list to have access to it.
Here are a few points about it:
1. It is NOT the same old same old info you've been reading about.
2. Mike used this method to put 1514 onto his list in a few days.
3. In my phone conversation with him he confessed the current numbers he was adding were far, far higher than that with the exact same method....the 1,514 was the FIRST time he used it.
4. It's great for beginners & veterans like myself
5. You can actually dominate a niche or semi-dominate it with this method
Here's the story in Mike's Own words.....
Is 1,514 Subscribers In 3 Days
A Pipe Dream Or Really Possible?
This list building strategy performed quite well considering there wasn't any kind of actual plan to follow... and even though it was less than perfect back then it still generated over 1,500 NEW subscribers.
I've held onto this secret for a while now, perfecting it's power and cashing in the entire time... and now I want you to get your hands on this gem and prove to all those skeptics that anyone can make money online.
This is by far the coolest list building secret I've ever found… and it works incredibly well too ;-)
First… a bit of background and why you should listen to me…
My name is Mike Hill and over the last several years I have been fortunate enough to become a full-time marketer mostly due to list building.
Now, I do have other ventures and opportunities that I work on to increase my monthly income but I can say with 100% confidence that if it weren't for list building I'd probably be working at a j-o-b somewhere.
I consider 2004 my break-out year and that was precisely when I discovered the power of list building. Believe it or not I was already making pretty good money from my first ClickBank product but I was not building a list… at first!
That turned out to be a huge mistake but to make a long story short I'm glad I finally clued in and saw the power behind list building.
Over the years I have run countless tests and conducted hundreds of experiments to prove which list building methods worked and of course which ones were complete wastes of my time.
The results of doing all those tests made me really understand list building and the TRUE power of a good targeted list.
In this report I am going to share with you one of the most powerful ways to build a list in any market WITHOUT USING Adwords, JV Partners, Co-Registration or any other form of PPC…
To make the most out of this method and make it work quickly, you need to be aware there is a small advertising budget involved but as you will soon see it's next to impossible for you to NOT build a huge targeted list…
That being said…
You can still use this method without an advertising budget which I'll explain later… But just so you are fully aware, it will take longer doing it all for free.
It's not like your advertising dollars are gone forever… the return you will get far outweigh the risks.
If you are considering the free method then you need to realize it will take you longer to see any kind of return, not to mention the amount of money you will be loosing if only you had went the "paid for advertising" route.
Here's an example:
List "A" follows the free method:

1,000 subscribers after 8 weeks of implementing this method and a lot of hard work in the process…
List "B" follows the paid method:

1,000 subscribers within the first few days just by spending $200 and the best part is there is no hard work involved because everything is automated and your advertising will most likely go viral…
If you were to put a dollar amount on the above two scenarios I think you would agree that you would be loosing about $150 dollars a week per one thousand subscribers doing it the free way.
So after the 8 weeks of implementing these methods using the paid method you would have gained about 10,000 subscribers and made a conservative $12,000 all from spending just $200 a month… so $400 investment total.
If you choose to go the free method then after 8 weeks you'd have about 1,000 subscribers and made about $150…
No out of pocket expense but you worked much harder and actually lost $11,850 you could have made if you invested the initial $200 out of pocket expense and then used the first months profits to fuel the next months advertising budget of another $200 … plus you also gave up on gaining another 9,000 subscribers.
I don't know about you but I would find the $200 from somewhere... even if I had to do something crazy like list all my music CD's on eBay to do it… I would certainly make it happen.
(And to be completely honest… there was a time before 2004 that I did sell all my CD's on eBay for extra cash..!)
THE HUGE LIST BUILDING SECRET
Last year I stumbled onto a very powerful secret to building a list in any market… I saw a handful of underground marketers doing it but nothing was ever mentioned about it in any course I ever read… (and I read a lot of courses)
So, I decided to put it to the test… I had nothing to model after so I put my best foot forward and made it happen.
The results were less than I expected but it was a trial run. After figuring out a few things I tried again, this time I made a few "tweaks" and the results were mind-blowing…
Here Are Just Some Of
The Markets You Can Use This
Killer List Building Secret In
Imagine building a super hot list in ANY market and profiting from it for years to come...
Online Gamers
Weight Loss
Diet Pills
Internet Marketing
Self-Help
Weddings
Divorce
Music
Online Poker

eBay
Magazines
Sci-Fi
Movies
Sports
Casino Gaming
Sports Betting
PayDay Loans
Digital Books
It can be any of those markets above... or whatever... it doesn't matter!
Here's How I Use
This Secret Plan
I've already used this plan to build BIG LISTS...! But I'm not even close to reaching the full potential of this yet...
My goal at this point is to build ten targeted lists of 10,000 subscribers per list... all in different markets.
About three times per week I deliver quality content to my current subscribers which are simple ideas of how to better use the information products I'm promoting via email.
Not a bad plan...
(I also reveal other details inside that will make a huge difference in profiting with all your new subscribers... starting from day one!)
BUT before YOU can get to this point you need to find out exactly how I build these highly targeted lists so fast!
And just so you know...
It has absolutely NOTHING
to do with Adwords!
I have gone ahead and written a special report called "Huge List Building Secret" were I've included this super secret list building method. I've also included a series of videos and a ONE PAGE flow-chart.
It's easy to order "Huge List Building Secrets". Just click the order button below for INSTANT ACCESS!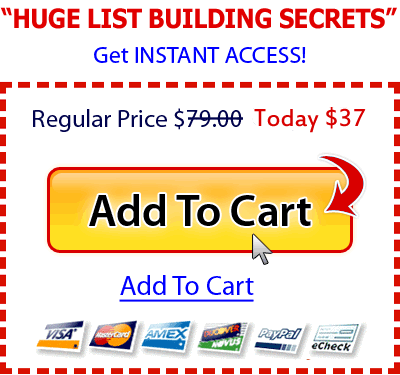 If you're smart enough you'll see that this product is absolutely priceless and could possibly make you untold thousands every day.

Believe me...

When you use this method you won't need to do anything remotely illegal... plus I've had fantastic results with over 75% of subscribers confirming the initial email.

ONLY 49 Copies Of
"Huge List Building Secrets"
Available At This Price!

So I take it I don't need to tell you how important it is for you to act fast and get your hands on this really neat traffic builder and list generator before it's too late...

Since this is a very limited offer, I encourage you to act now without delay.

As you can see, Mike stumbled across quite a discovery. I'm very excited to be able to tell you about it, so go ahead and grab List Building Secrets right now.

Best wishes,

Marlon Sanders



© 2012 by Higher Response Marketing Inc. All Rights Reserved.