Are You Ready To Start Your Own Blog But Do Not Know Where To Begin?
Then you need to play close attention right now to discover...
Massive Video Course..
Step-By-Step Guide Shows How To
Plan, Create, Customize & Secure
Your Blog Business Empire!

Watch Over My Shoulder As I Show You The Way To Blogging Riches, Even If You're An Absolute Newbie!
Dear WordPress Blogger (or soon-to-be blogger),
Normal, everyday-average people are making money by blogging, and this takes place every day. Want to be one of them?
If you are brand new to blogging or even just a little familiar with blogs, then you know how difficult it can be to make even a little money with your blog.
By the time you have read the manuals and watched the free WordPress videos with the hope to figure out exactly how to set-up and manage a profitable blog, others - possibly your competitors, have made hundreds of dollars and have moved way ahead of you in learning the newest tips & tricks
You'll end up playing a cruel game of catch-up with these fast-moving entrepreneurs. The more money they generate, the more they can put toward improving their own skills, and the further behind you get.
You need to take the bull by the horns and even up the playing field...
Right Now!
If you insist on learning WordPress and blogging the hard way - by searching for free videos, eBooks and tips - you will continue down the same path you are on now.
How is that working out for you anyway?
There's a better solution though..
You Can Jump Onto The Fast Lane
& Begin Creating Your Blogging Empire
TODAY!
Obviously you are wanting to increase your knowledge of blogging - whether you are just starting out or simply wanting to take your current blogging experience to the next level.
In either case I have exactly what you're looking for.
I have been using WordPress for several years. Like a lot of things, there are basic fundamentals and there are areas in which shortcuts can be applied.
I have created more than 39 easy to follow (and some say entertaining) video tutorials. These WordPress video tutorials will show you step-by-step all the basics as well as the shortcuts. These WordPress videos are exactly what you are looking for in order to catch up AND PASS YOUR BLOGGING COMPETITION.
Soon, Your Competition Will Be Playing Catch-up
All these WordPress video tutorials were created with the absolute beginner in mind, so you'll never feel like you're listening to a bunch of geek speak.
It is my pleasure to present to you..
Your WordPress Video Tutorials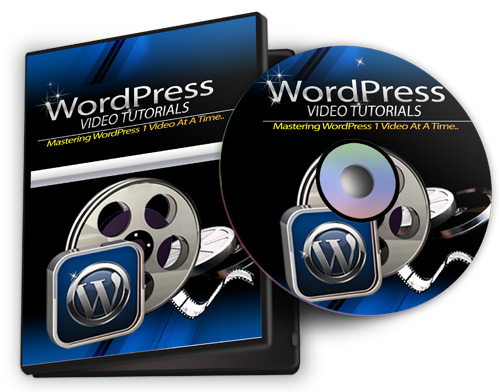 Video 1:
Organization Tips & Ideas
These are some of the techniques I use in order to keep me focused and on track. This way I'm working on the images and files instead of wasting loads of time looking for them.
Video 2:
Keyword Research
In order to have any long term success with your online marketing, it is important to know at least a little about Keyword research and how to effectively do it.
Video 3:
Your Domain Name
In video 3 we talk about ideas to consider when deciding on your domain name. A little thought should go into where you purchase your domain names from so we cover this as well.
Video 4:
Where Is Your Blog Going To Live
Your blog has to hang its hat somewhere..so to speak..So in video 4 you will learn a bit about web hosting companies and in doing so you will get a better idea as to where you will spend your hosting dollars.
Video 5:
Connect Your Blog To Your Server
Connecting your blog to your newly acquired hosting account is very simple once you learn the basics. Video 5 will show you the way.
Video 6:
Setup Your FTP Client
Video 6 will cover the A to Z's of setting up your FTP Client. FTP is one of the basic ways in which you can transfer your files from your computer to your hosting account - or server - or web site or whatever terminology you want to use.
Video 7:
cPanel Intro
cPanel - in my humble opinion, is the premier control panel for web hosting accounts and in video 7 we will introduce you to, and take a stroll around inside, cPanel.
Video 8:
Creating SubDomains With cPanel
Once you are familiarized with cPanel we will dive right into creating SubDomains using cPanel. What is a SubDomain and how can it be used in your blogs? Video 8 is here to answer those questions.

Video 9:
WP Auto Install
Now that we have covered a good chunk of the basics and have a solid groundwork laid out..its time for video 9 where you will learn how to easily and automatically install your WordPress Blog. First-timers, don't blink, you'll miss the entire process.
Video 10:
MySQL Database Creation
Video 10 will cover some of the more techie stuff in a non-techie way. You will learn how to create a MySQL Database. This knowledge will come in handy for creating certain blogs as well as being used in other online tools - so this is a must see video.
Video 11:
WP Manual Install
Time to roll up your sleeves and learn to install WordPress the manual way. Video 11 will show you how its done and why it is a good idea to have this know-how even if you can auto-install your blogs while blind-folded.
Video 12:
WP Versions Upgrade-Manual & Auto Methods
The people at WordPress are constantly updating and improving the software. Video 12 will show you how easy it is to do your own upgrades both manually as well as automatically.
Videos 13-20:
Security
Videos 13 through Video 20 cover in detail, ways to add layers of armored-plated security to your WordPress blogs.
Video 21:
Clean & Customize
Now that we have WordPress installed and tightly secured, its time to clean things up a bit and video 21 will also show you how you can customize your WordPress blog layout.
Video 22:
Themes-Intro & Install
One of the fantabulous things about WordPress is the ability to quickly change the look of your entire blog in mere seconds. Video 22 will introduce you to the WordPress Themes and how you can change yours with ease.
Video 23:
Plugins-Intro
Video 23 will introduce you to another awesome feature of WordPress. The ability to add extra functionality to your WordPress blog with just a few clicks of your mouse button. This is done through Plugins.
Video 24:
Plugins-Install
In video 24 you will learn a few different methods to install your WordPress plugins.
Video 25:
Config Akismet
The next several videos will show-case various plugins and how to configure them. This video - video 25, will show you how to configure Akismet. This plugin is a major spam-eater so this is one of the important ones to have.
Video 26:
Config All In One SEO
Video 26 will show you how to configure the All-In-One-SEO plugin so you are able to squeeze as much SEO juice from your blog as possible. This is one of the most popular plugins for WordPress and for good reason. This is another in the 'must have' department.
Video 27:
Config Traffic SEO
One of my favorite plugins is from one of the coolest & smartest guys in online marketing - Jeff Johnson and his UndergroundTrainingLab.com website. The plugin is called Traffic Getting SEO Plugin and when you have it setup properly, it does exactly as the name implies. It helps drive in free search engine traffic like no other.
Video 28:
Config Contact Form
Video 28 will walk you through the process of configuring the Contact Form plugin as well as a couple things you might want to consider when setting up your contact form.
Video 29:
Config Google Analytics
Knowing what goes on behind the curtains of your blog is a must! Video 29 is a must see tutorial because it shows you how to configure the Google Analytics plugin.
Video 30:
Auto Posting
With video 30, you will learn how important auto-posting plugins will be for you, if you plan on creating a blogging empire of several blogs.Auto posting plugins are also a life-saver when you have little or no time to get your regular manual post added. Automation can be a good thing.
Video 31:
Create New Posts
Now that you are knowledgeable of auto-posting Video 31 will go old-school & will touch on a few ways you are able to manually create new posts for your WordPress blog
Video 32:
Create New Pages
In video 32 you will learn about creating new Pages. How they relate to your navigation menus, how to password protect your new pages and so much more.
Video 33:
Add New Users
Video 33 will talk about safely adding new Users to your blog as well as the many different 'levels or roles' each of your Users can have and what those roles can do.
Video 34:
What Is A Widget
Like plugins and themes, Widgets are just another module that can add a whole new layer of coolness and functionality to your WordPress blog. Video 34 will do the introduction.
Video 35:
Backups-Auto & Manual
Video 35 will cover one of the most important tasks you have regarding your WordPress blog..Your backups. In this video you will learn how to both automatically and manually do complete backups. A definite must see.
The 4 videos below were created to cover the major changes are found in the WordPress Version 3.x
Running Time 4:59
WP 3.x


How To Upgrade To WP 3.0


In this video we will cover the upgrading process to WP 3.0
It will take longer to show you than it will take to actually do it but I want to cover with you some important tasks to consider before you hit the upgrade button.
Running Time 10:15
WP 3.x


How To Customize The Menus


This video is the second of several videos on the 3.0 version of WordPress. You will learn how to customize your navigation menus. The awesome minds at WordPress have added some pretty cool options for us with this customizing function.
Running Time 7:58
WP 3.x


How To Customize The Theme


In this video you will learn how to customize the header image and the background of the default theme called twentyten. This new default theme is - in my humble opinion - a far cry better than the previous Kubrick theme & this video will showcase a couple of the reasons why.
Running Time 9:11
WP 3.x


How To Enable The Multi-Site Feature


This is one of my favorite new features of WordPress 3.x. In this video you will learn how to enable the ability to house many different blogs under just one WordPress installation. This can be a little tricky but I show you step-by-step so you will not get lost.
Okay... So How Much Is This In-Depth
WordPress 39 Video Course Going To Cost?
When you take action right away, your 39 WordPress Video tutorials will be available for instant download for only $17!
Click ADD TO CART so you can begin building your blogging business RIGHT NOW!

Plus I'm going to remove any risk out of the equation with my..
100% Iron Clad 60 Day
Money Back Satisfaction Guarantee!
When you invest in these WordPress Video tutorials you will have a full 60 days to review the entire course and ensure your satisfaction.

You are fully covered by my iron clad, no quibbles satisfaction policy, which means if you are not totally delighted with this program you will get a prompt and courteous refund.

You Have Everything To Gain - Nothing To Lose!
So Order NOW!
Risk-Free Acceptance Form
Your Secure Order Will
Be Processed Immediately
YES! I Am Ready To Absorb The Information From Your WordPress Videos Starting Right Now!
I understand that by taking action NOW and grabbing my copy of the WordPress Video Tutorials, I'll get instant access to all 39 step by step video tutorials.
I am acting FAST -- So please let me take advantage of this amazing offer for just $27 $17.00 before you come to your senses and raise your price!
I understand that I have a full 60-day money-back guarantee to examine my WordPress Video Tutorials video course.
And, if I'm not satisfied in any way, I know that I'll receive a full and courteous refund right away.
It is on that basis that I am clicking the secure ADD TO CART button below and entering my credit card details to download my copy this instant!
Grab Your Videos Now...
Before Your Competition Does!
Get Instant Access to all 39 Videos
Just $17.00 --
(72 Hours ONLY!)
Remember, each one of your blogs can generate money for you each and every day - if they are setup properly. These WordPress Video Tutorials will help guide you to creating as many money making blogs as you want.

Most of your blogging business will be set to 'Auto-Pilot' so you can spend more quality time doing the things most other people can only dream about doing.

Imagine have streams of passive income from your Wordpress blogs, earning you money effortlessly day, after day, after day.

Your WordPress Video Tutorials will show you EXACTLY how to setup and configure your Wordpress blogs to create an automatic money--maker.

For just $17 you can download your copy of these powerful step by step WordPress Video Tutorials today.

I am completely confident that you will love this complete video course and enjoy making money with Wordpress.
Best Wishes,
Marlon Sanders
P.S. Remember your purchase of the WordPress Video Tutorials are covered by my 100% money back guarantee - so you risk nothing if the videos do not live up to your expectations.